Collections Open for Submissions
Guest Editors: Julian Carosi and Massimo Micaroni
Submission Deadline: 26 May 2023
Editor's Choice
Satake et al. provide a protocol to differentiate iPSCs into lubricin-expressing cells and demonstrate their potential use a therapy for arthritis and synovitis in an animal model.
Behrendsen et al. assess the biological activity the missense mutation D427H in the oncogenic transcription factor STAT3 and find that the mutated protein does not appear to have oncogenic potential beyond the WT transcription factor.
Reviews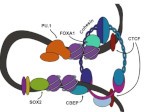 In this new Review Wang et al. describe recent insights into altered genome architecture in human cancer, highlighting multiple pathways that disrupt chromatin structure and contribute to tumorgenesis.
Aims and scope
BMC Molecular and Cell Biology, formerly known as BMC Cell Biology, is an open access journal that considers articles on all aspects of cellular and molecular biology in both eukaryotic and prokaryotic cells. The journal considers studies on functional cell biology, molecular mechanisms of transcription and translation, biochemistry, as well as research using both the experimental and theoretical aspects of physics to study biological processes and investigations into the structure of biological macromolecules.

Spotlight On
Understanding the impact of climate change and exploring potential solutions to this global threat is more important than ever. Here we share recent highlights from the BMC Series journals.
BMC Series Blog

Annual Journal Metrics
Citation Impact
For BMC Cell Biology (former title)
2.813 - 2-year Impact Factor (2021)
2.813 - 5-year Impact Factor (2021)
0.689 - SNIP (Source Normalized Impact per Paper)
0.716 - SJR (SCImago Journal Rank)

Speed
36 days to first decision for all manuscripts (Median)
64 days to first decision for reviewed manuscripts only (Median)

Usage
487,759 Downloads (2021)
196 Altmetric mentions (2021)
Follow
Sign up for article alerts and news from this journal